The only vendor management system with a built-in hiring marketplace that delivers exponential agility, scalability, and intelligence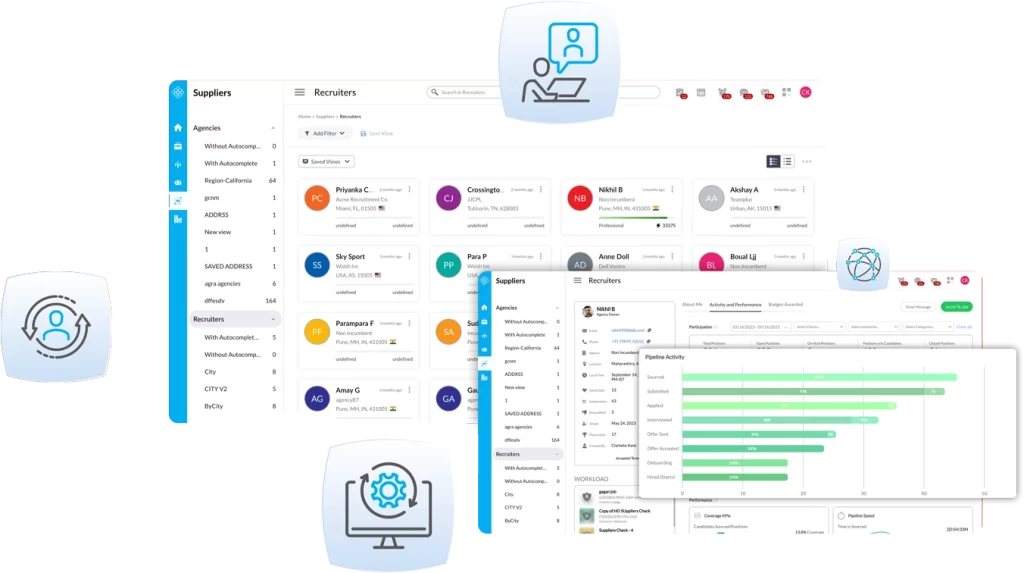 Vendor Management - Redefined
Today's volatile business landscape demands technology that adapts to unpredictable change, collects and analyzes data in real time, and fosters a networked ecosystem of suppliers and talent pools.
That's how we've built Prosperix VMS Network.
Other VMS platforms only allow users to interact with and manage existing suppliers, talent, and data.
Our patent-pending technology provides more:
Learn more about the difference between a standard VMS and Prosperix VMS Network:
Why choose Prosperix VMS Network?
Other providers claim to offer comprehensive, modern technology that's designed to keep up with unexpected change. We actually do.
The patent-pending Prosperix VMS Network gives you instant access to the world's largest ecosystem of businesses, suppliers, and candidates. You gain total visibility into your workforce, increase cost savings, reduce rogue spend, and improve business outcomes. We provide: 
What sets Prosperix apart:
Only VMS with a built-in Hiring Marketplace
Tap into a continually expanding network of suppliers and candidates to supplement your incumbent suppliers and existing talent pools – ensuring faster hires, higher job-fill rates, and more talent spanning diverse geographies and skill sets.
Achieve greater program efficiency and results with intelligent algorithms that dynamically match suppliers and distribute jobs across our networked platform, aided by automated functions like AI-driven sourcing, tiering, and performance management.
Automated supplier management
Enable incumbent and new suppliers to contribute immediately with reduced friction and optimized, automated processes that ease contract administration, supplier vetting, and onboarding.
Real-time reporting and analytics
Boost visibility, transparency, and performance across your program with real-time reports, analytics, and scorecards.
Using our intuitive drag-and-drop interface, quickly create custom hiring workflows for every job, department, or your entire program based on your exact specifications.
Candidate-centric experience
Empower candidates with more control over and visibility into their individual hiring experiences as they directly manage profiles, apply to jobs, schedule interviews, and receive status updates.
Reduced duplicate submissions
Avoid duplicate candidate submissions and improve efficiency with our industry-first digital right-to-represent function, which enables candidates to select the suppliers they prefer to work with.
Immediate setup and go-live
Your managers can start using Prosperix VMS Network as soon as you invite them. A simple set-up process and in-app training makes long, difficult implementations a thing of the past.
1010+

1020+

1030+

2040+

3800+
Vetted talent suppliers in Hiring Marketplace
Supplier Submissions per Job
Faster time-to-fill vs. industry norm
1010+

1020+

1030+

2040+

4.6/5
Quality of interviewed candidates
Supplier bill rate compliance
What the experts are saying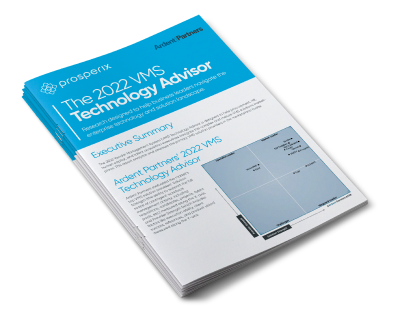 Read what makes our solution "one of the most innovative platforms in the market."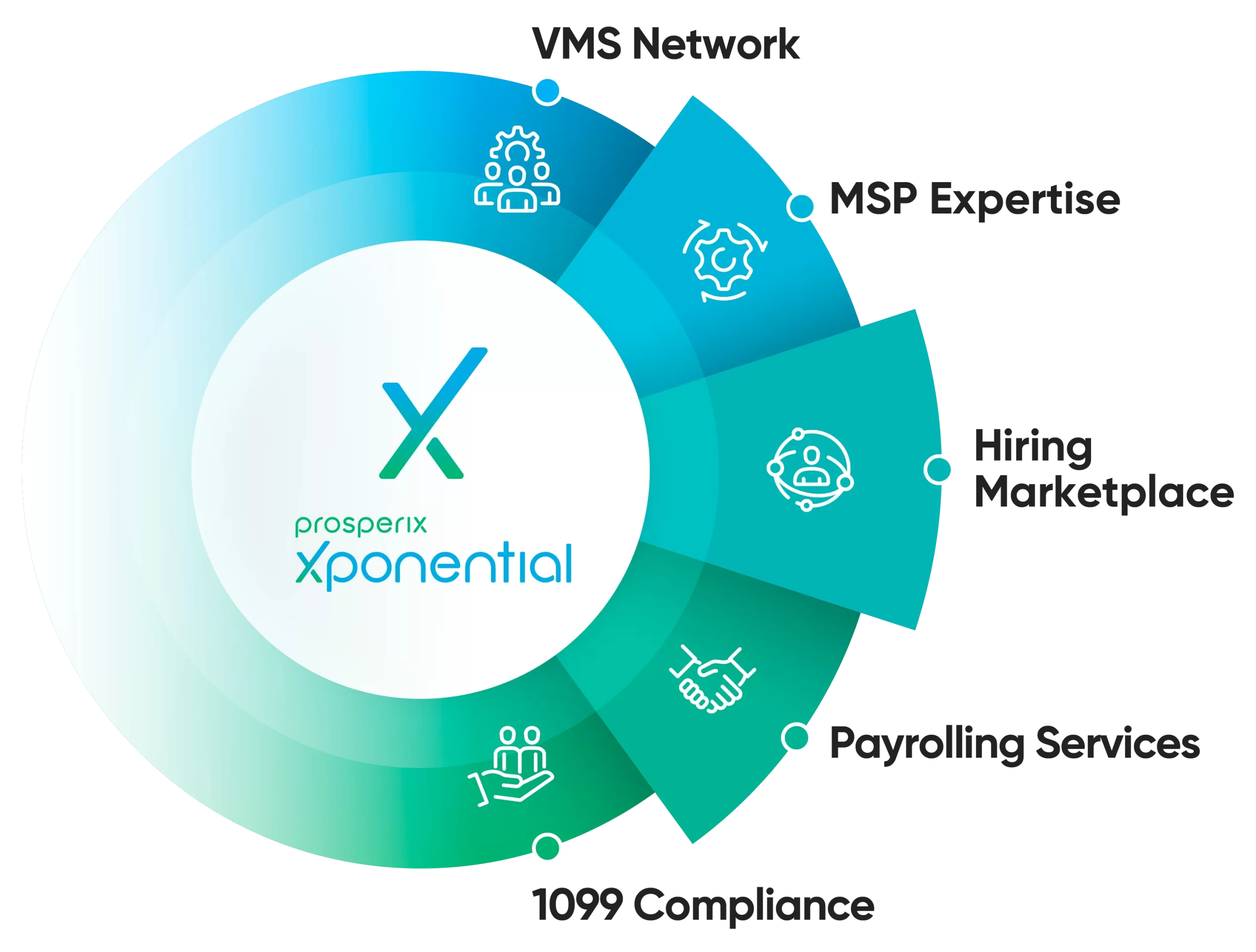 Learn about Prosperix Xponential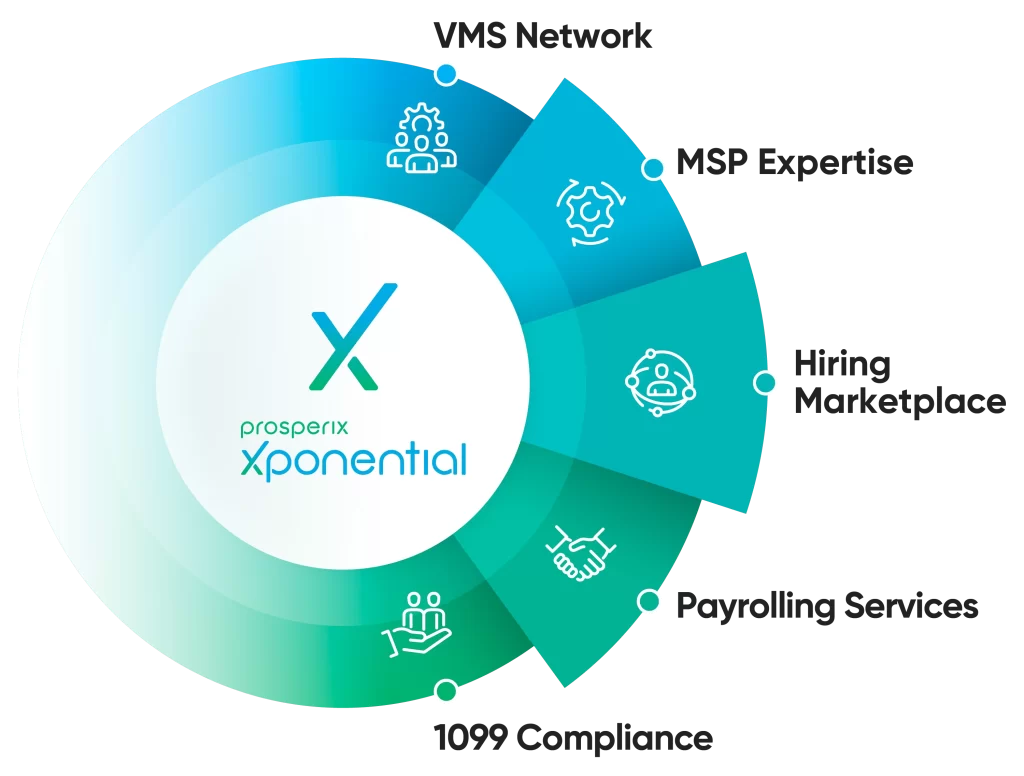 The Prosperix VMS Network becomes even more powerful when combined with our Hiring Marketplace, MSP expertise, and payrolling services – brought together in a comprehensive suite of technology and services expertise we call Prosperix Xponential.   
Meet exponential change with our exponential solution.
Talk with one of our experts to learn how Prosperix can help you build your own extraordinary workforce.