The word "marketplace" instantly brings to mind throngs of business people vying for the attention of customers. Much like any physical marketplace, a hiring marketplace aggregates the vital components of staffing, i.e., hiring teams, job seekers, and recruiters in the digital realm.    
Along the same lines, the advantages of a traditional marketplace translate to a hiring marketplace. Hiring marketplaces act as an additional channel to connect with candidates. They are not limited by territories or time, allow you to connect directly with job seekers, and give you the opportunity to establish new supplier partnerships. However, with unique benefits come unique issues, and it's imperative to understand the challenges faced by hiring managers, recruiters, and talent acquisition teams.  
Prevalent Challenges of Contingent Hiring
1. Finding capable candidates
Whether your approach to finding candidates is fueled by the mindset of "there's plenty of fish in the sea" or veers to the other end of likening it to "finding a needle in a haystack", one aspect remains common between both schools of thought – that hiring is portrayed as a numbers game.   
Typically, an online job posting is viewed by a 1000 candidates, of which 200 start the application procedure, 100 finish applying, 75 get screened out, 25 are evaluated by a hiring manager, only 4-6 are invited to interview, and a single candidate secures the job at the end of the day.    
The effort involved in whittling down 1000 to 1 can dilute the quality of the outcome, which beats the purpose of hunting for the perfect candidate. Quality is just as crucial as quantity, but recruiters often lack that guarantee. 
2. Levelling the playing field
It's impossible to achieve optimum contingent hiring without staffing vendors but involving them is easier said than done. The intricacy and challenges of managing staffing vendors is proportional to their volume; as the latter escalates, the former follows suit.
In seeking to fulfill staffing requisitions through a wide web of vendors small and big, the negotiating power seldom lands in your court. Individual vendors facilitate different facets of the requisition process. Without healthy competition and grounds for price comparison, vendor markups can peak.
3. Gleaning spend visibility
Companies often expect that their contingent labor spend is fully and efficiently utilized towards hiring and managing the workforce.  The reality is that nearly a quarter of the approved or pre-negotiated spend is eaten up by rogue spend.
Given the increasing demand for contingent workers and decreasing turnaround times, hiring managers are pushed to make decisions on the fly without the input of other internal teams, causing a rift between the spending intent and end result. Consequently, the dearth of direction in overarching budget strategies of the contingent labor program renders its potential unrealized.  
4. Minimizing bottlenecks in hiring stages
An average of 42 days – that's how long it takes to hire for each opening. Depending on the particular industry or nature of the role, the period can range between 14 and 63 days. This scenario in a landscape where 64% of American organizations want to replace or retrain a fourth of their workforce by 2023.
Factors like multiple rounds of manual review, miscommunication, disorganization, budget constraints, and other business concerns are culprits of dragging out the hiring flow. Only the extremely ambitious and resourceful are able to shove aside these roadblocks, and with difficulty at that.
Achieve Congruence with the Crowdstaffing Hiring Marketplace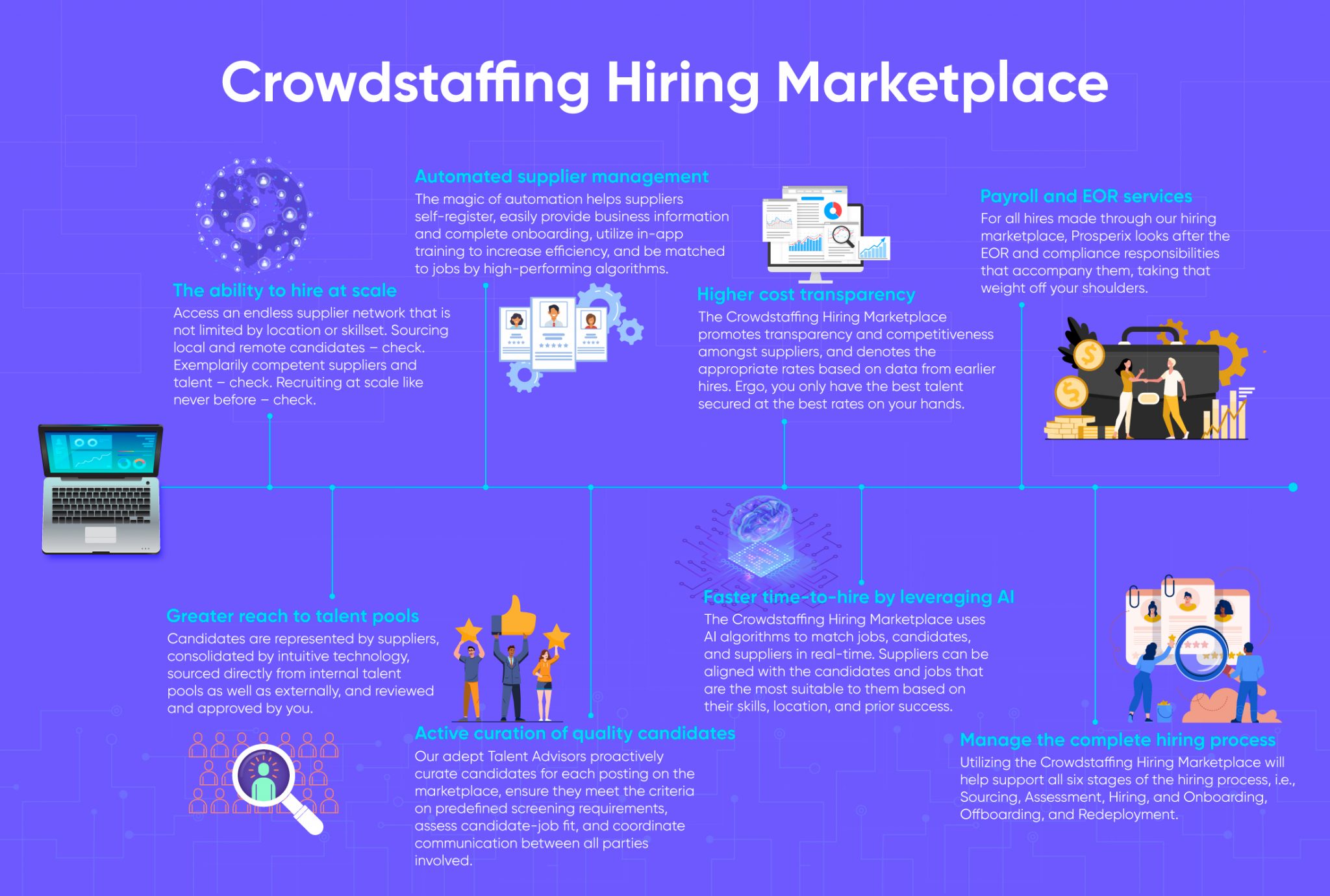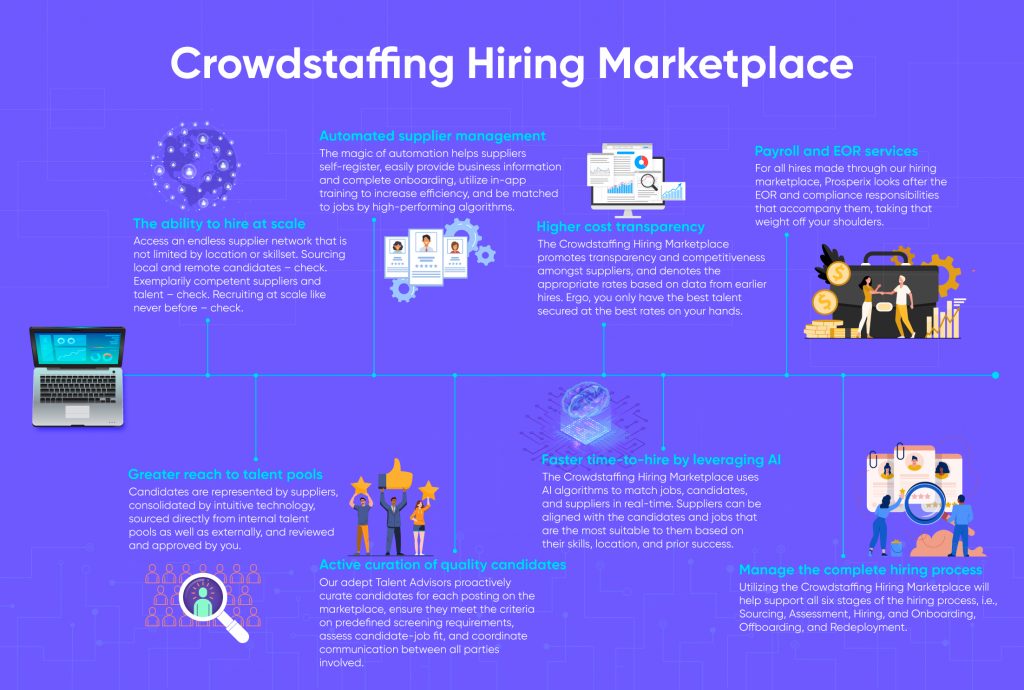 Without assistance, overcoming the challenges of contingent hiring can seem daunting. Though, armed with an online platform like the Crowdstaffing Hiring Marketplace, you can be well on your way to combat these common staffing hurdles. You'll gain: 
1. The ability to hire at scale
Nothing like being able to access an endless supplier network that includes but is not limited to national and international suppliers, boutique and niche suppliers, independent recruiters, and RPOs. The diversity of the network doesn't stop at location (spanning across North America and overseas); it also applies to suppliers' ability to identify talent pools of varied skillsets. Sourcing local and remote candidates – check. Exemplarily competent suppliers and talent – check. Recruiting at scale like never before – check.
2. Greater reach to available talent pools
Candidates on the Crowdstaffing Hiring Marketplace are represented by suppliers, consolidated by intuitive technology, sourced directly from internal talent pools as well as externally, and reviewed and approved by you. Our marketplace is adept at handling all this for multiple job postings simultaneously, lifting the burden of finding and evaluating fresh candidate sources off your shoulders.  
3. Automated supplier management
It's not enough to establish in words that suppliers are integral to your successful contingent hiring plans; our hiring marketplace embodies and facilitates every supplier's seamless functioning. With the aid of automation, suppliers can self-register, easily provide business information and complete onboarding, utilize in-app training to increase efficiency, be matched to jobs by high-performing algorithms, and obtain real-time scorecards to be aware of and improve their performance. 
4. Active curation of quality candidates
Remember how discovering quality candidates is one of the biggest thorns in the sides of hiring managers and talent acquisition teams? Our Talent Advisors proactively curate candidates for each posting on the marketplace, ensure they meet the criteria on predefined screening requirements, assess candidate-job fit, and coordinate communication between all parties involved – thereby increasing candidate quality without soaking up valuable time in the process. Further, once a candidate has been zeroed in on, our Advisors also take care of the follow-up and onboarding procedures.
5. Higher cost transparency and lower hiring spend
Safeguarding your right to know and pay fair market rates matters to us. The Crowdstaffing Hiring Marketplace promotes transparency and competitiveness amongst suppliers, and denotes the appropriate rates based on data from earlier hires. Ergo, you only have the best talent secured at the best rates on your hands. 
6. Faster time-to-hire by leveraging AI
The Crowdstaffing Hiring Marketplace uses AI algorithms such as the Multi-direction Matching Algorithm, Job Distribution Algorithm & Job Attention Algorithm, to match jobs, candidates, and suppliers, making connections in all directions in real-time. Suppliers can therefore be aligned with the candidates and jobs that are the most suitable to them based on their skills, location, and prior success.
7. Payroll and EOR services
For all hires made through our hiring marketplace, Prosperix looks after the EOR and compliance responsibilities that accompany them. This consists of managing payroll procedures, employment taxes and withholdings, verification and administration of W-4, I-9, and W-2 information, ACA compliance, enrollment, and maintenance, ongoing employee relations, and more.
8. Tools to manage the complete hiring process
Utilizing the Crowdstaffing Hiring Marketplace will help support not one, not two, but all six stages of the hiring process, i.e., Sourcing, Assessment, Hiring, and Onboarding, Offboarding, and Redeployment. The marketplace has been designed with key innovations to enable you to customize your hiring workflows through the Applicant Tracking System, engage candidates with the help of the Talent CRM, assess talent using customizable Smart Forms, store and manage audit and compliance-related documentation, and collaborate via unified communication channels.  
If you've made it this far, you're quite likely ready and eager to reap the benefits of a hiring marketplace. Get started by posting your next opening on the Crowdstaffing Hiring Marketplace.