Recent events like the Covid-19 pandemic have changed and are continuing to change life as we know it, including transforming how organizations approach building their workforce. Cost-efficient contingent hiring tops the agenda of many, and so does the hunt for the best ways to achieve it.  
Enter direct sourcing.
Direct sourcing allows businesses to leverage their existing candidate pools to fill openings for contingent roles. Direct sourcing reduces hiring time and costs, widens reach of available talent pools, promotes brand awareness, and improves candidate experience.  
Give our introductory post a read to learn more about what direct sourcing can do for your business.  
Direct Sourcing Adoption Trends
Given the trajectory of today's agility-driven markets, Staffing Industry Analysts' (SIA) latest report 'Achieving Excellence in Direct Sourcing for the Contingent Workforce' states that the contingent workforce share is anticipated to reach 40% by 2025.  
This upsurge in contingent workforce recruitment indirectly points to a jump in direct sourcing practices. Thereby, the report predicts that the next two years will see a 1.6x growth in implementation of direct sourcing, indicating an adoption rate of approximately 60% and extending beyond early movers.  
As it penetrates contingent hiring processes, direct sourcing is proving to be a positive driving force towards: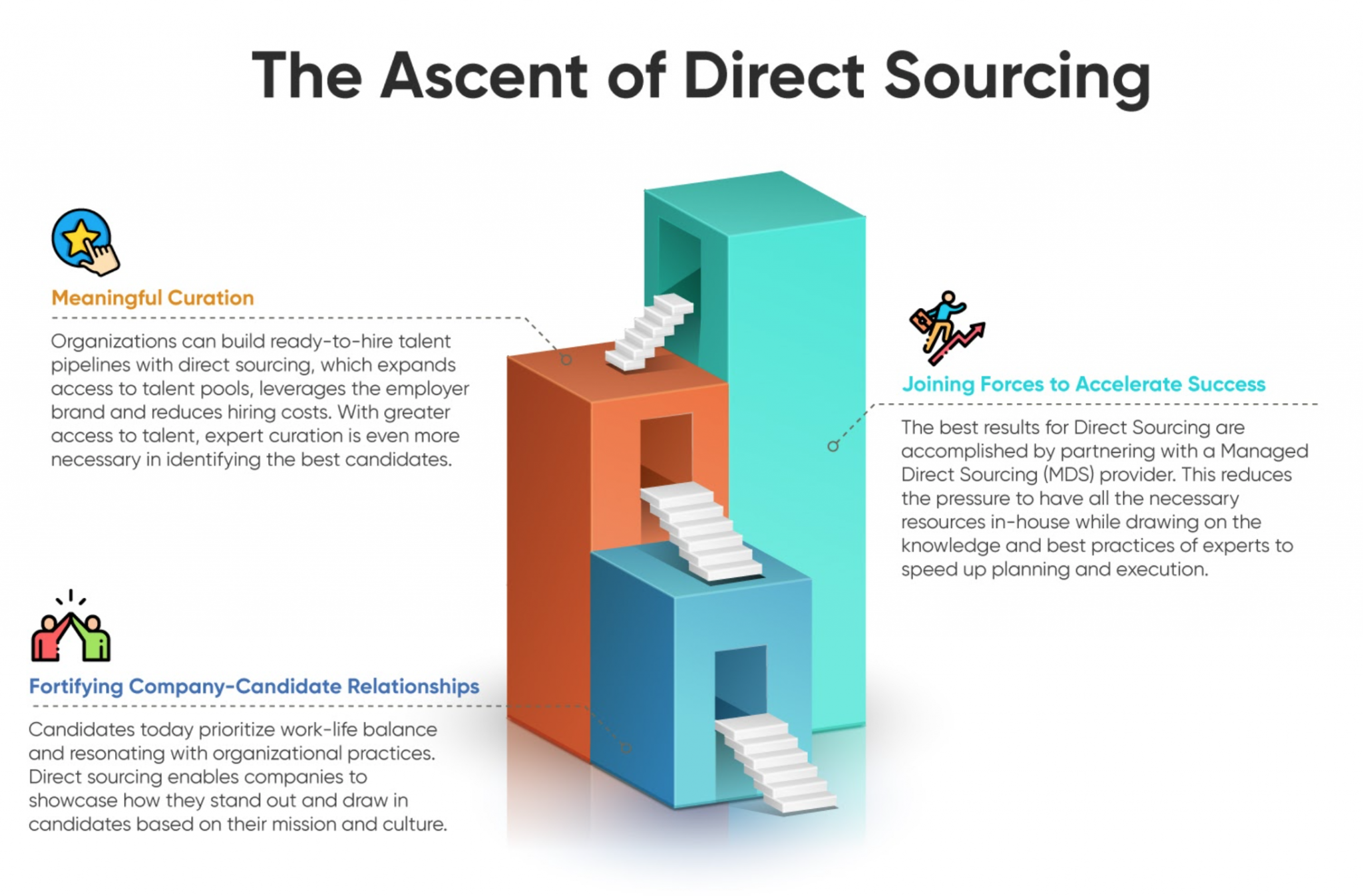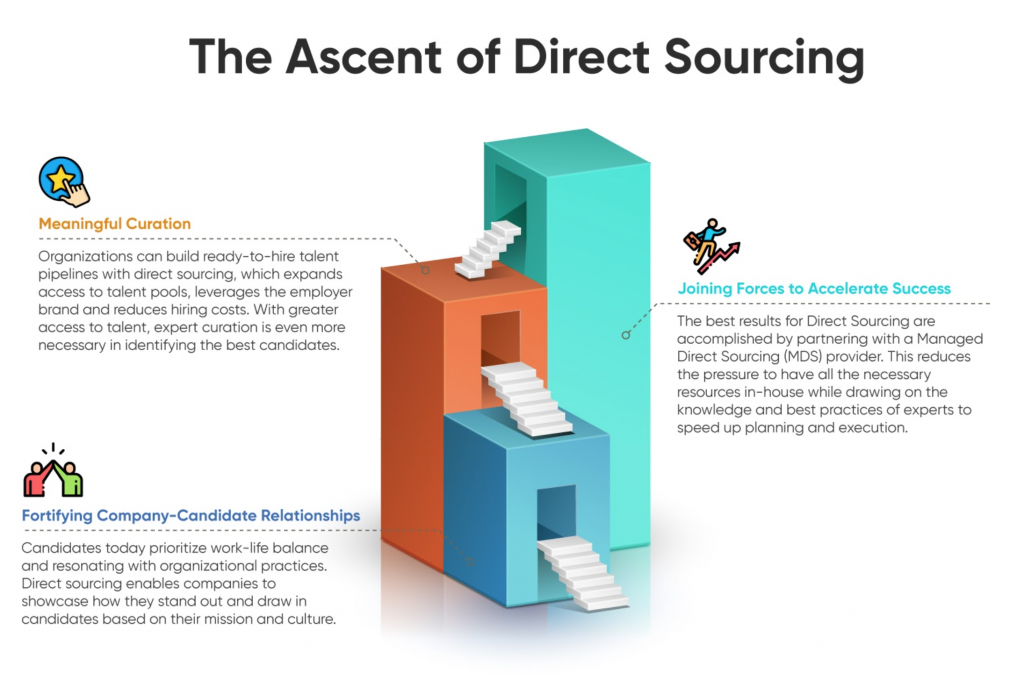 1. Fortifying Company-Candidate Relationships
A Harvard Business Review survey found that 65% of 2800 job applicants dropped out in the midst of the recruitment process because they found the work-life balance to be inadequate or didn't resonate with the organizations' methods, especially during testing times.
"In today's large talent market, contingent workers can choose their employers and they want to understand what benefits – in addition to pay – they can expect from the collaboration. In the past, many corporations viewed these workers as "a commodity." That mindset is outdated. Every organization needs to develop strategies that allow them to attract this highly qualified talent directly – and that's the sweet spot of direct sourcing", says Tim Proehm, Vice President of Digital Product Development, KellyOCG.
Direct sourcing gives companies the opportunity to attract candidates on their own merit. This means they don't have to rely on the picture a third party might paint. But more importantly, they have to actively find ways to connect with candidates, be it through online presence or outreach.
It's not enough to merely have a mixed bag of a talent pool. Direct sourcing's true advantage lies in proactively and meticulously curating a talent pool that is diverse and skilled before the need to fill an opening even arises.   
More organizations are seeking to build talent containers through direct sourcing that will help them in accessing candidates for continuous hiring and growing talent pools at lesser per-hire costs. Candidates across multiple online and offline sourcing channels are merged within a container, making it much easier and quicker for talent acquisition teams to fill any volume and nature of roles. 
3. Joining Forces to Accelerate Success
On first impression, direct sourcing might be perceived as an entity's individualistic endeavor, given that the act champions finding talent from within the business, often by the business.  However, while the objective is to make internal contingent hiring more efficient and effective, optimum results are accomplished by partnering with a Managed Direct Sourcing (MDS) provider.   
Companies choose to outsource direct sourcing to an MDS provider because it reduces the pressure to have all the necessary resources in-house. Moreover, handing over the reins to a provider hastens planning and execution, utilizes their knowledge of best practices and industry experience, makes direct sourcing more scalable and trackable, and minimizes chances of friction and risks.
How You Can Implement Direct Sourcing with Prosperix
If you're ready to hop on the direct sourcing express train, look no further. Prosperix offers Direct Sourcing solutions that will guide you through amplifying and fortifying your recruitment processes.  
Our solutions can help you bring your winning direct sourcing strategies such as attracting talent through brand recognition, harnessing technology and recruitment tools to curate and nurture candidates, and developing talent pools for future roles and hiring needs – to life.
To make direct sourcing a part of your contingent hiring workflow and to learn more about its benefits, schedule a demo now.