What is Recruiting Automation?
The fields of Artificial Intelligence (AI) and Machine Learning (ML) are uncovering new applications for their technologies on a seemingly daily basis. In the field of hiring, recruiting process automation, or recruiting automation, is one of those recent developments. Recruiting automation is now an industry buzzword, and has many wondering what it is and what promise it holds.   
What is recruiting automation? To put it simply, recruiting automation supports the work of talent acquisition teams. It enhances every hiring stage, including planning, strategy ideation, candidate sourcing, screening, and post-hire performance.
17% of organizations have adopted automation for these purposes, and the number is set to rise to 30% by 2022. A further 38% are directing their resources towards AI enhanced talent acquisition. Organizations are increasingly recognizing that paying attention to automation yields exponential returns.   
Why is Recruiting Automation Important?
The myth that automation will replace recruiters is just that – a myth.
If a huge chunk of recruiting time and energy is devoted to manual and housekeeping duties, it leaves a limited amount to concentrate on the interpersonal requirements of the job. On average, 23 hours of a recruiter's productivity goes towards screening for one hire wherein at least 75% of candidates are unqualified.
When automation is employed to work hand-in-hand with recruiters, it allows recruiters to place an emphasis on enhancing the candidate experience through personalization and high touch points from start to finish.         
Entelo's report on the state of recruiting trends in 2020 corroborates areas where automation is most useful. 39.6% of recruiters find the most value in sourcing, followed by candidate qualification and interview scheduling equally at 15.8%. Engaging candidates was cited as essential by 11.9% and team collaboration by 7.9%.
How Recruiting Automation Can Elevate Your Hiring Efforts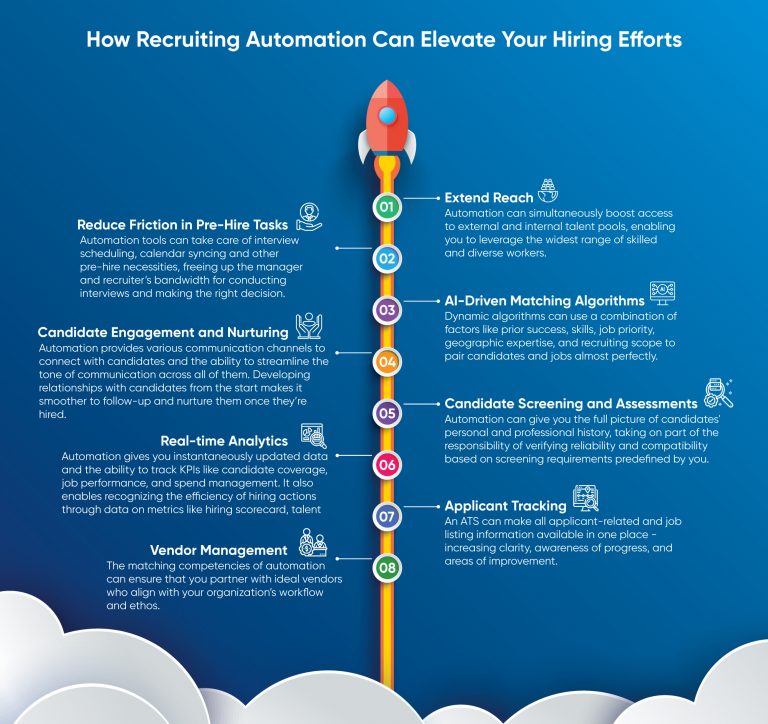 Less is more in some instances, but not with hiring. In this case, more is more. The larger the candidate pool, the better the chances of finding the right candidate for your role and company.
Automation can simultaneously boost access to external candidate pools while prioritizing internal talent pools. This way, you'll always be able to leverage the widest range of workers based on skills and diversity.  
2. Reduce friction in pre-hire tasks
There's only so much that handpicking can get you. And it is more often a bottleneck than a benefit because of how arduous it gets. When manually assessing resumes and shortlisting candidates in high volumes, it's near impossible to get it right every time.
Employing resume parsing along with AI matching technology allows the intelligence of automation to tackle organizing and evaluating applicants, especially in the initial stages. If combined with digital questionnaires and assessments to validate skills and experience, automation can become a game changer. When the sea of candidates are smartly narrowed down to a handful, picking from the best ones is a lot simpler.
The other major time-draining gripe for hiring teams is setting up and rearranging interviews. Stories of miscommunication and missed interviews resulting from coordinating issues are more common than you would think.
Sidestep such downsides; simply integrate automation tools to take care of candidate assessments, interview scheduling, calendar syncing and other pre-hire necessities. It will free up the manager and recruiter's bandwidth for conducting the interview and making the right decision.
3. AI-driven matching algorithms
Hiring teams can observe the potential of AI shine through in its capability to pair candidates with jobs almost perfectly. A hiring marketplace like the Crowdstaffing Hiring Marketplace harnesses the capacity of AI algorithms to achieve multi-direction matching between candidates, suppliers, and recruiters, and prioritizing as well as distributing jobs optimally. These dynamic algorithms use a combination of factors like prior success, skills, job priority, geographic expertise, and recruiting scope to analyze job-candidate fit.
The Crowdstaffing Hiring Marketplace also uses AI to produce probability-of-hire scores to reveal the likelihood of securing a perfect hire for every job. It also works to reduce any potential recruiter or manager bias in play.
4. Candidate engagement and nurturing
In a people-centric practice like hiring, recruiters value building a relationship with the candidate and guiding them at every point. The candidate's experience takes prominence as much as any other facet.
Automation provides you with various communication channels to connect with candidates, and the ability to streamline the tone of communication across all of them. The added advantage of developing relationships with candidates from the start is that it becomes easier to reach out and engage them for jobs as warm leads rather than cold ones. Conversion rates are much higher for candidates that are engaged and nurtured as part of a talent community over time, allowing for on-demand hiring of candidates through an active talent pipeline.
5. Candidate screening and assessments
Every worker that joins the company becomes a member of your corporate family. Automation can help you get to know who an individual is by giving you a full picture of their professional history and how it maps to your company.
Not only are you looking for individuals of merit, it's also important that they are able to easily embrace your company culture. Moreover, the standards you set for your work clan are bound to be aspirational. Automation can take on the responsibility of verifying capabilities and compatibility based on screening requirements predefined by you.
Recruiting happens in the real world in real-time, so extracting data three, six or twelve months later is counterproductive to the purpose of analytics; especially to understand what's effective and what needs to be improved.
Obtaining data that is instantaneous and updated with every change is invaluable. Automation gives you that and the ability to track KPIs like candidate coverage, job performance, and spend management. It also enables talent acquisition teams to recognize efficiency of hiring actions, by gathering comprehensive data using metrics such as hiring scorecards, talent supplier engagement, and pipeline activity, among others.
Your recruiting endeavours are bound to be more fruitful when you have a strong understanding of how and where they are being used. Applicant Tracking Systems (ATS) can be that crucial component to augment your hiring workflow.
Incorporating an ATS will make all applicant-related and job listing information available in one place, increasing clarity for all involved. Every step of the hiring roadmap is visible through the ATS dashboard, ensuring that recruiters are aware of progress level and areas that need more focus. 
Just as important as paying attention to candidates is managing vendors and suppliers. The matching competencies of automation can ensure that you partner with ideal vendors who align with your organization's workflow and ethos.
The Prosperix VMS establishes this using AI algorithms that gauge parameters like skills, success, expertise, and more. Further, the algorithms couple suppliers and jobs based on the 3Ps of each supplier, including their Profile, Performance, and the Pools of talent they represent.
It doesn't stop there. Post selection, the VMS takes the weight off your shoulders of vendor information collection, handling agreements, and other onboarding processes. It also equips you with real-time scorecards so you have full transparency and concrete data to bolster hiring results.
For most businesses, automation tools that address individual elements of the hiring process can be powerful in increasing the productivity and success of hiring efforts. Now imagine how transformative it could be if each of these capabilities were combined and you will understand the design thinking that Prosperix has incorporated by leveraging multiple layers of recruiting automation and AI across an end-to-end workforce solution that addresses the complete hiring lifecycle.
Ready to witness the wonders of recruiting automation? Schedule a demo with us now.