One of Prosperix's clients is a publicly held energy services company with $1B+ in revenue and 1000+ employees spread across a variety of locations. Their main business includes delivering natural gas to more than 380,000 residential, commercial, and industrial clients. 
The client was having trouble with efficiently managing the 10+ staffing agencies that they worked with. Inefficiencies with onboarding, invoicing, and performance assessments were hampering their contingent hiring program's ability to scale and succeed. The client wanted a way to better manage their existing suppliers while getting access to a larger supplier base for more coverage and better performance.
The client onboarded with Prosperix as their combined VMS/MSP solution in less than 30 days. Their Prosperix Talent Advisor (and single point of contact) worked with them to move management of their incumbent suppliers into Prosperix, as well as opening their job requisitions to the Crowdstaffing Hiring Marketplace.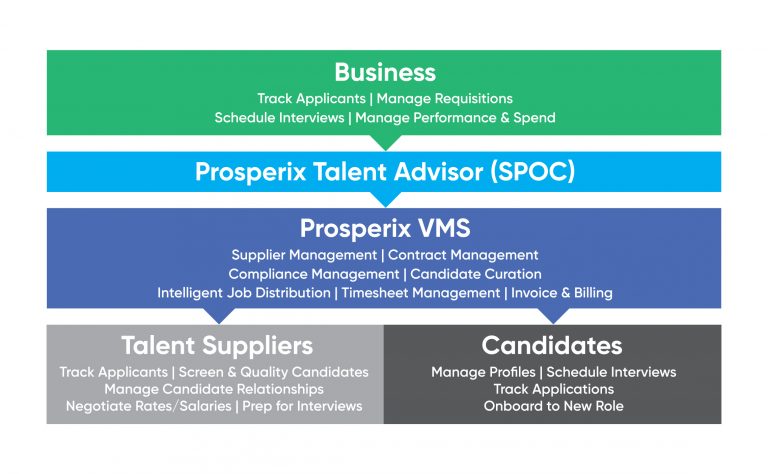 By leveraging the built-in integration with the Crowdstaffing Hiring Marketplace, Prosperix VMS Network uses network intelligence to match open jobs to a proven, ever-expanding network of thousands of talent suppliers and their respective talent pools. This built-in network of talent suppliers works in tandem with the client's existing suppliers, ensuring immediate recruiting support for all jobs, the broadest reach into proven candidate sources and the best rates.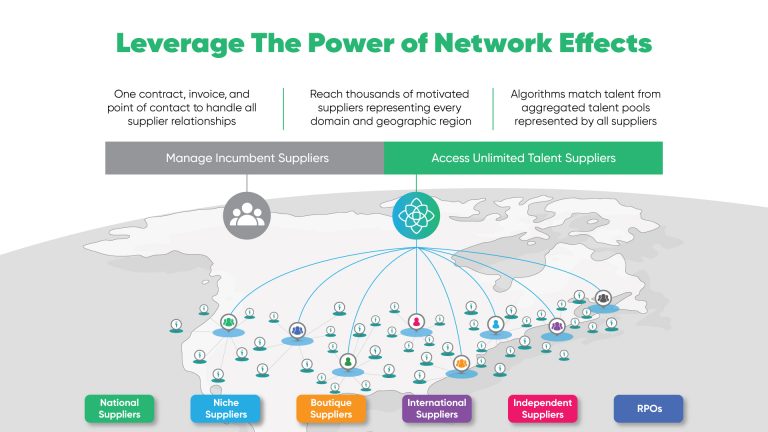 How Hiring With Prosperix Works
First, the client's jobs were added into the VMS, including all relevant details and job description. 
Then, job matching algorithms used the information in the job descriptions to connect those jobs to a network of thousands of talent suppliers (including the client's incumbent suppliers), representing all sizes and specialties, thereby leveraging network effects to draw on a much larger talent pool than traditional contingent hiring solutions. 
Once a talent supplier selected a job posting to fill, they parallel sourced candidates from internal and external talent pools. Talent suppliers utilized their own unique recruitment processes, tools, and technologies to source and secure the best talent. Matched candidates were contacted, screened, and submitted for review in the platform by Prosperix Talent Advisors. The aim of Talent Advisors is to curate and present only the best candidates to the client for review.
When a hiring decision was made, automated offers, background checks, and onboarding got the hires to work quickly. Client-specific best practices for the were identified, tracked, and replicated to finetune the hiring process.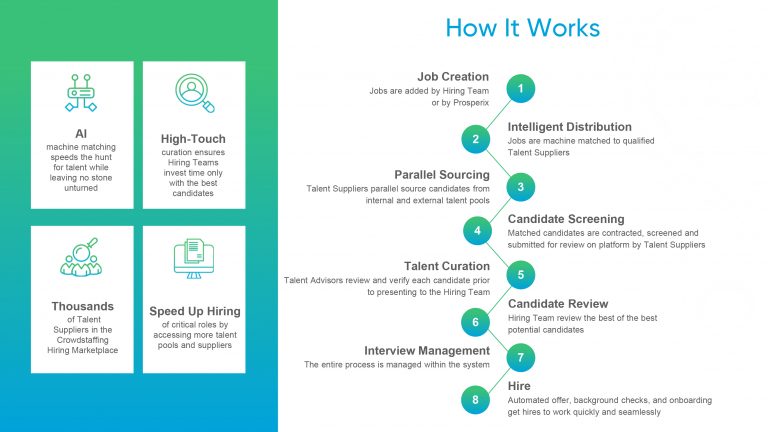 Using the power of the crowd, the client saw an immediate and dramatic increase in curated candidates to select from. Within the first year of supplier, 649 candidates for 73 open positions were identified (an 8.89:1 ratio), with an average submittal time that decreased from weeks to just 15 hours. The quality of candidates increased, and Prosperix standardized all terms, conditions and rates, enabling increased focus on the clients' core competencies and allowing them to take advantage of the economies of scale Prosperix provides to our clients.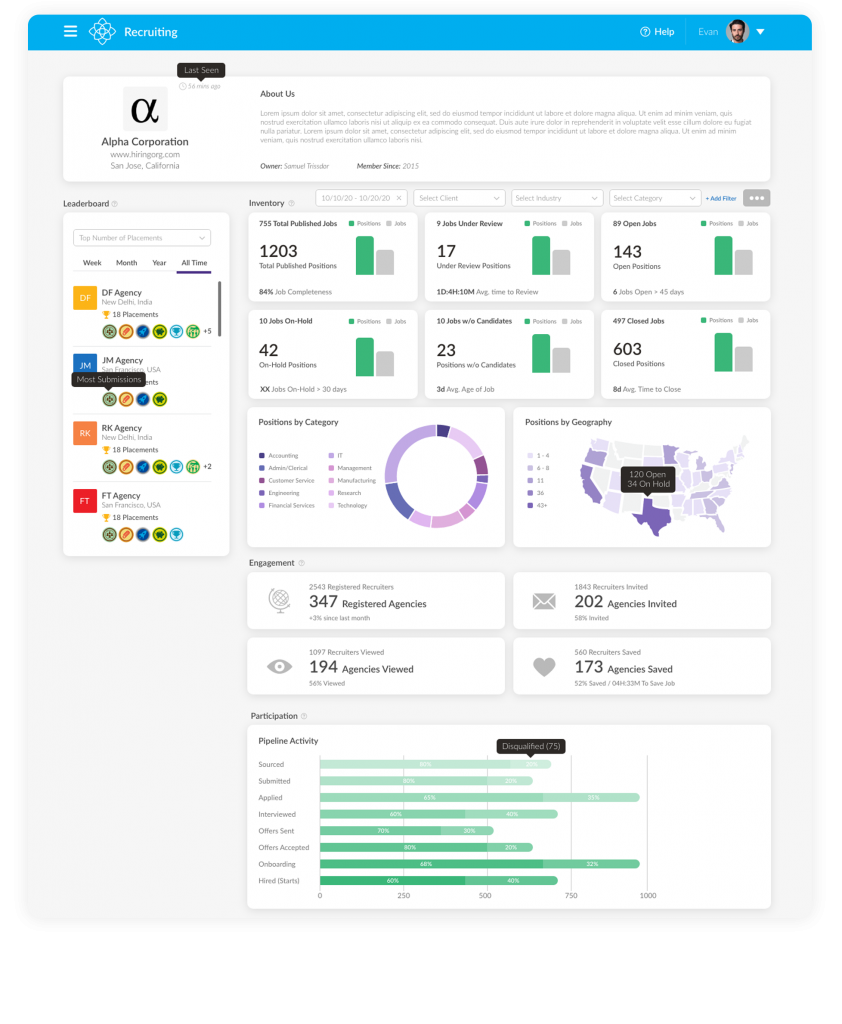 Additionally, by using Prosperix as their combined VMS/MSP solution, the client was able to simplify their overall contingent workforce program, while their dedicated Talent Advisor team helped them automate vendor requisition distribution, provide visibility into program analytics, and assume responsibility for supplier management and engagement.
Interested in having the same results?