Hiring is a systematic process that flows from one step to the next. Hiring is akin to playing dominoes; the trick is to set up each tile as equidistant and perfectly in line with its predecessor, after which it's just a matter of tipping the first tile with your fingertip to see them all topple in sequence.
While the fundamental objective of hiring is to grow and nurture an exemplary workforce, hiring techniques should not be implemented with the mindset of "one size fits all". Hence, you'll benefit tremendously from implementing hiring workflows that are systematic as well as adaptable to your ever-changing needs. 
What is a Hiring Workflow?
A hiring workflow is a streamlined process of each stage that a candidate follows when applying for a job opening. Imagine every opening in your organization is a game and every potential candidate is a player. One can win by getting through all the levels of the game, i.e., the hiring workflow stages.
Typically, the stages of a workflow are comprised of Sourced, Submitted, Applied, Interviewed, Offers Sent, Offers Accepted, Onboarding, & Hired. Depending on the organization, there may be additional stages that make sense. For example, some organizations have several rounds of interviews, others add a stage for pre-screening assessments, and a few track candidate marketing, engagement and nurturing stages as well. 
Regardless of how many stages your business utilizes, most workflow stages remain consistent across job openings to ensure that key hiring practices are upheld. Though, depending on the type of role, the purpose of some stages may be tweaked to better suit hiring needs. For instance, a technical role may require multiple rounds of interviews to separately analyze the functional and soft skills of a candidate.
Why are Hiring Workflows Beneficial?
Hiring workflows give your hiring teams the power to be proactive and remain unified in their hiring efforts by presenting them with:
1. Evaluation of job performance
Workflows offer a bird's eye view of whether the various phases of hiring are functioning harmoniously, and if the speed and efficiency of candidates' movement from one stage to the next is sustainable. When updated in real-time, analytics from the workflow also reveal bottlenecks and how processes can be improved.
2. Minimized time-to-hire
Time is a precious commodity that we all want but never seem to have enough of. This is no exception even when it comes to hiring. The primary aim of any recruiting endeavour is to secure the best person for the job as soon as possible.  
As a candidate moves from one stage of the workflow to the next, having a clear picture of the progress and following a plan of action aids managers and recruiters in setting realistic targets as well as motivates them to move the process along towards the finish line quicker.
3. Increased access to talent
Hiring workflows guarantee that sourcing is not a one-time activity and that there is no dearth of candidates for a position until it is filled. As a cyclical system, workflows provide a steady inflow of candidates from various channels such as recruiters, hiring marketplaces, and job portals.   
Moreover, each candidate sourced as part of a hiring workflow becomes part of an expanding talent pool that you can dip into for subsequent hires. Learn about how Prosperix can assist you in building talent pools and talent pipelines that activate on-demand hiring to enhance your hiring program.  
4. Greater spend visibility
Knowing that a hire costs more than the average is not enough to stop the budget drain in its tracks. A workflow breaks down the process of hiring conveniently into stages, which makes it easy to pinpoint which steps consume the largest portion of money, time, and energy. Through the workflow, hiring teams will be able to assess whether resources are being utilized effectively and optimize them accordingly.
Last but not least, hiring workflows prove to be beneficial in aligning management's expectations of outcomes and the realities of contingent hiring. In cases of unexpected delays and roadblocks, the workflow provides concrete evidence to support recruiter analytics. For example, if a workflow shows that most candidates are stuck at the interview stage, scheduling issues or delayed manager feedback can be identified as potential causes and steps can be taken to rectify the bottleneck.
Customize Your Hiring Workflow With Prosperix VMS Network
Manually creating and maintaining a hiring workflow on spreadsheets is one way to get the job done. But using a modern Vendor Management System like the one designed by Prosperix can help you establish a flexible workflow effortlessly. Not to mention, you'll have access to all the additional offerings of Prosperix VMS Network like the integrated hiring marketplace, automated supplier management, candidate engagement, intuitive workforce management, and other enhanced capabilities.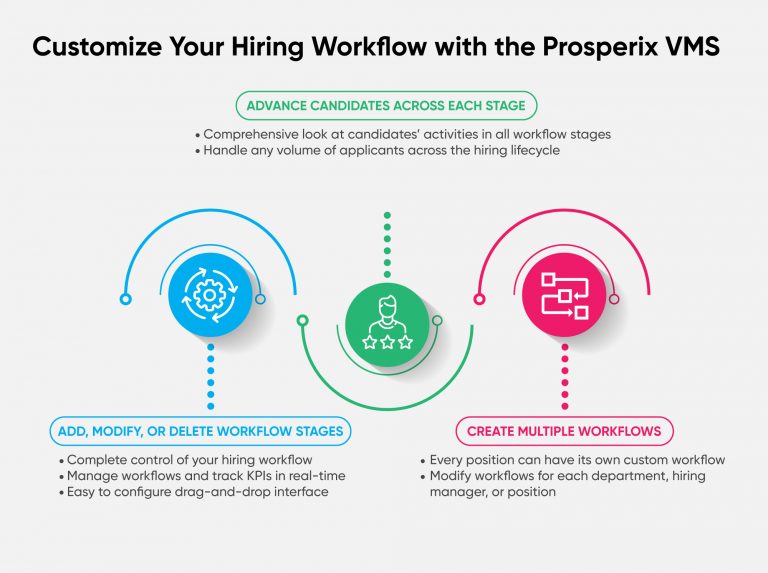 Customize Workflow Stages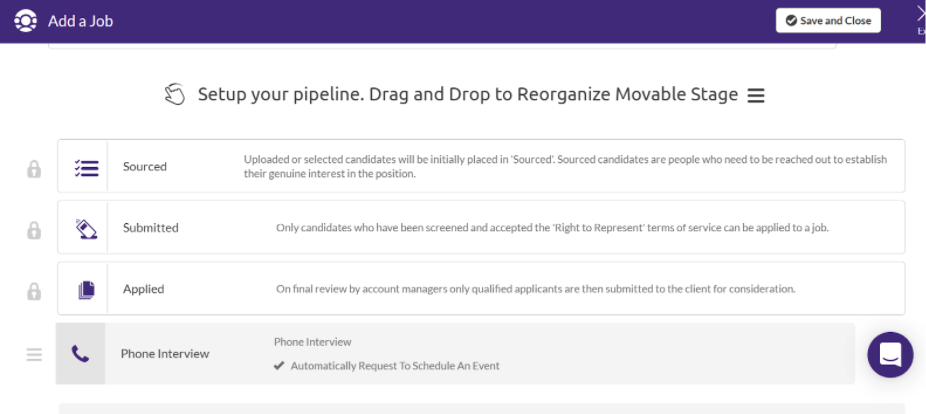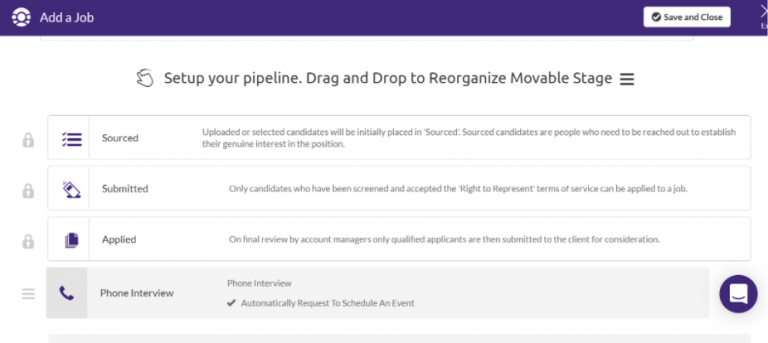 A custom-tailored and well-oiled hiring workflow can make a world of difference in obtaining successful outcomes. As a user of Prosperix VMS Network, creating a hiring workflow is made simple with the default setup that encompasses all the necessary hiring stages. Or better yet, you can create a customized workflow to meet your exact needs.
Prosperix VMS Network gives you complete control of your hiring workflow by enabling you to add crucial stages and remove unwanted ones, all with a drag-and-drop interface. This makes it very simple to configure and customize to the precise specifications for each job, department or hiring manager preference.
Advance Candidates Across Each Stage
Within Prosperix VMS Network, every workflow stage displays the progress and number of candidates who are categorized under it, including the percentage of those who have been disqualified. Alternatively, you can view the status of each candidate within their profile. The workflow gives talent acquisition teams a dashboard for candidate activities in all stages to understand the velocity and coverage for specific roles. This makes it easy to manage any volume of applicants across the hiring lifecycle.
Create Multiple Workflows


Given that the nature and scope of jobs vary, every position you're attempting to fill can have its own custom workflow. You can use the default workflow for the company or modify workflows for each department, hiring manager, or position. 
Since all your workflows are housed within Prosperix VMS Network, you can manage and update them in real-time. Moreover, you can replicate workflows that are tried and tested using templates or develop unique workflows as and when new positions crop up.
Schedule a demo with our experts to help you design perfect hiring workflows for your business with Prosperix VMS Network.