A company's workforce is often its biggest – and arguably most valuable – resource. Factors like the global pandemic, innovations in technology, and the nature of many job roles, have led companies to accept (and in many cases welcome) a workforce composed of full-time employees and contingent workers.
As the number of contingent workers used across the global economy continues to rise, organizations are turning to managed services providers (MSP) and vendor management systems (VMS) to optimize their contingent workforce management programs. We're seeing more organizations adopt combined MSP/VMS solutions, embracing the ease of managing their workforce program that comes with a single entity.
What the MSP and VMS core components can do
Vendor Management System (VMS) technology makes the implementation of MSP services possible. Implementing a VMS in staffing can be game-changing for businesses because they:
Managed Service Providers facilitate the end-to-end management of the contingent talent lifecycle and provide visibility around all  factors associated with their contingent workforce, suppliers, and other partners. An MSP in staffing can:
The intertwined evolution of MSP and VMS
Introduced in the U.S. staffing market in the early 90s, MSPs were a way for organizations to manage third-party suppliers and reduce outsourcing expenses. VMS platforms emerged when MPS providers realized they needed technology to support the implementation of their processes. 
The role of an MSP has evolved, becoming a strategic partner for day-to-day contingent workforce management and long-term strategic planning. Combining the power of a modern VMS with expertise of an MSP enables businesses to gain the significant insights they need to expedite growth, improve process efficiencies, perform quality evaluations and improve outcomes.
Both solutions are well-established in the staffing industry. According to Staffing Industry Analysts' 2020 Workforce Solutions Buyer Survey, 88% of responding organizations have a VMS in place and 66% have an external MSP.  
A strong MSP/VMS program modernizes an organization's contingent workforce management by bringing a solid understanding of industry best practices that incorporate ethics, impartiality, compliance, and data security, balancing the needs of businesses, suppliers, and candidates. 
The perks of Prosperix's combined MSP/VMS solution
At Prosperix, we provide exactly what companies need to grow and manage their extraordinary contingent workforces. Our industry-first VMS Network provides a fully-integrated experience that brings businesses, suppliers, and candidates together in one ecosystem. When it is supported by our MSP in staffing services, companies benefit from: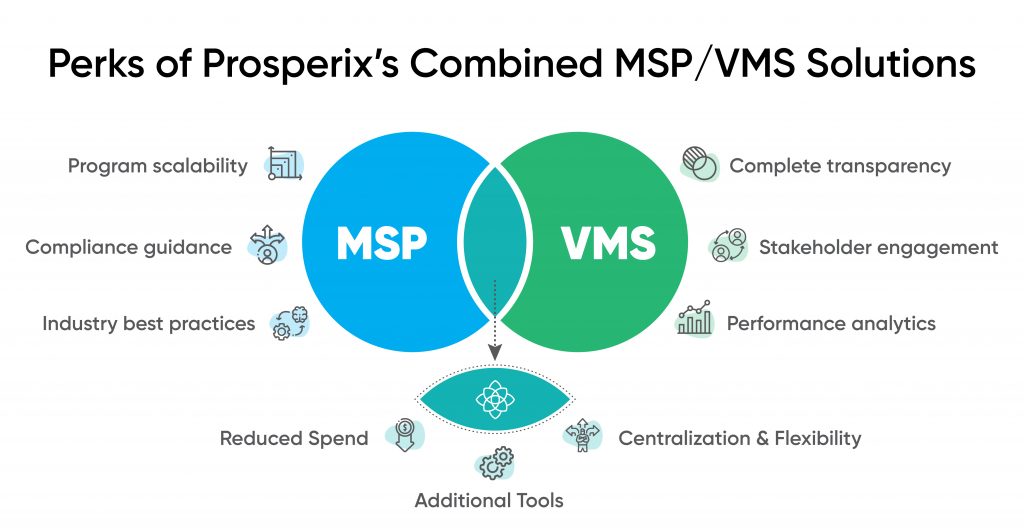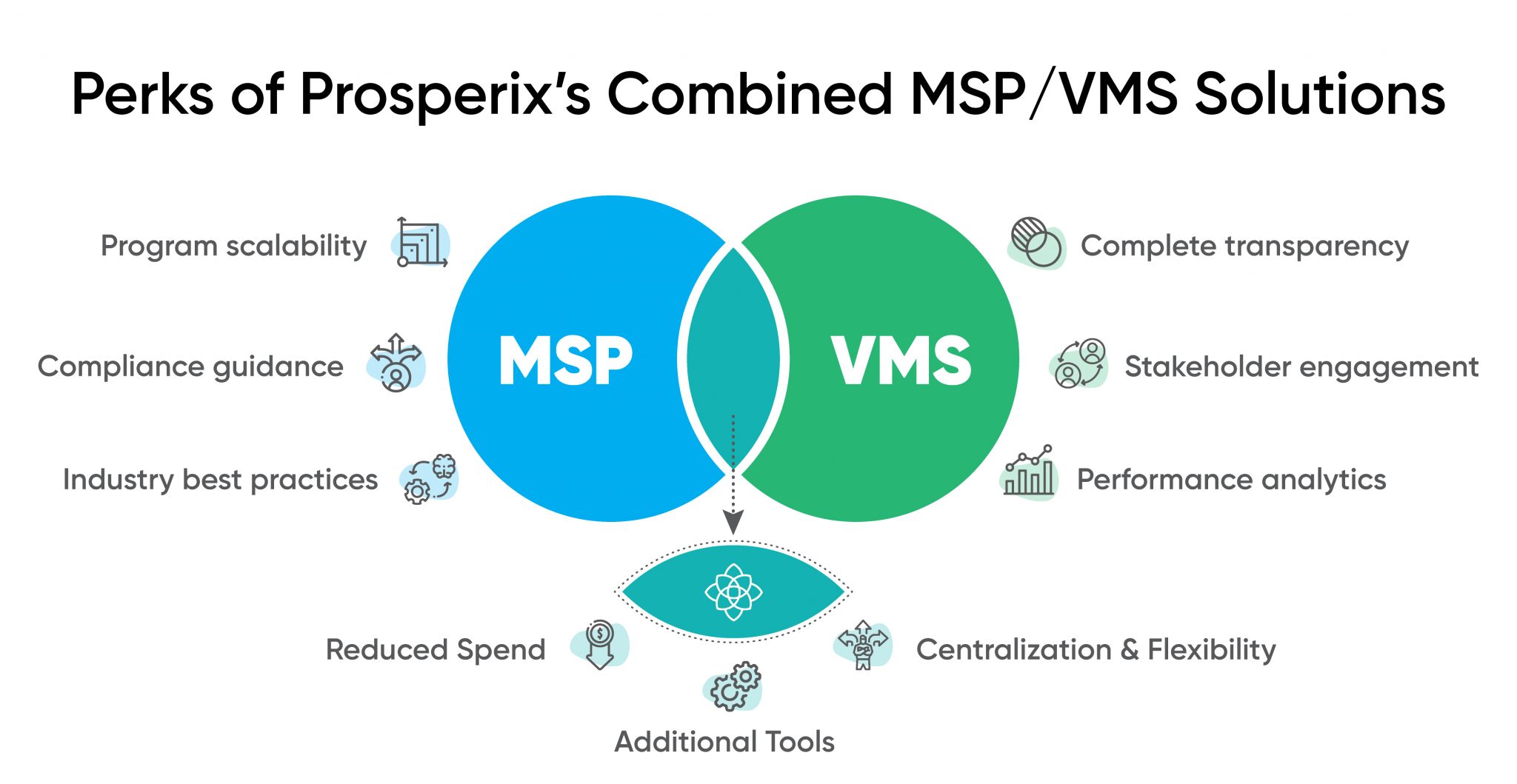 One of the most significant benefits of VMS platforms, especially when supported by MSP strategies, is their capability to consolidate payments and manage multiple suppliers simultaneously, allowing businesses to enjoy greater productivity more cost-effectively. 
Using Prosperix's MSP/VMS services means that your contingent workforce spend is managed by one system, eliminating the need for multiple platforms and providers. And, technologies used by other departments can be integrated with Prosperix, so expenses remain transparent, accessible, and consolidated across your organization. 
Centralization and Flexibility
Our MSP/VMS solution facilitates success in contingent hiring. We recognize that factors like supplier relationships, scaling operations, and streamlined processes are essential for growing businesses. So, our vendor management tools are designed to be flexible enough to be tailored to your operations, while gathering and recording all relevant data within a centralized system. Prosperix's solutions are adaptable to perfectly complement your existing workforce management program or build one to achieve your workforce management goals the best possible way. Rest assured, we will work with you to customize our MSP/VMS solution to your program and workflow.
Access to Additional Tools
Since our innovation is focused on achieving outstanding hiring outcomes and workforce prosperity, we offer additional solutions and services that extend beyond our MSP and VMS solutions. We can create individualized programs that include other vital workforce management components like our Crowdstaffing Hiring Marketplace, on-demand talent pools, direct sourcing, payrolling and employer-of-record services, and more. 
Teaming with Prosperix allows companies to tap into these services so they can source high-quality candidates who are the best fit for open jobs. We also make sure workers have a positive experience during and after hiring, which fortifies and unifies contingent workforce programs. Ultimately, Prosperix's extended workforce solutions are designed to work cohesively, improving people's lives in the best way possible.    
Set up a demo today so you can see how Propserix's combined MSP/VMS solutions can transform your company's contingent workforce program.