Vendor management systems provide operational support for contingent workforce management. When companies combine that capability with a built-in hiring marketplace, they strengthen stakeholder relationships, deliver richer insights, and enable faster hiring.
Every organization wants a fully-functional and successful contingent workforce program so they can acquire top talent, save money, reduce compliance risks, gain complete workforce visibility, and standardize processes. 
Achieving this goal – often recognized as program maturity – can seem like an arduous task, but integrating the right solutions can move even the trickiest contingent workforce programs forward. 
Instead of using a holistic, integrated approach, businesses often choose specialized solutions that are not (or cannot be) integrated across their organizations to support the various aspects of contingent workforce management. 
Companies that cling to these traditional methods often become stuck with several technologies that don't communicate, drown in spreadsheets, and struggle to coordinate multiple suppliers. Continued use of siloed solutions compounds contingent workforce management complexity by adding operational problems and hindering the collection and application of contingent program data. This leaves businesses ill-prepared to meet unexpected talent shifts, stunting their growth and profitability in the long run.
Two technologies that are changing the hiring landscape
Contingent workforce management has benefitted from the introduction of the VMS, which has facilitated so many well-managed processes that reduce duplication of tasks, save money and time, and support better outcomes.
Now, after years of incremental change with regard to this workforce management technology, a seismic shift is taking place. Modern VMS platforms don't just cover the operational aspects of managing contingent workforce but are equipped with cutting-edge functionality supported by technologies like artificial intelligence and machine learning. And they live in the cloud which increases accessibility and streamlines the entire process.
Hiring marketplaces, a much more recent phenomenon, are shaping the future of staffing by automating the talent-sourcing process. These modern hiring platforms are built on crowd-based networks, incorporating recruiters of all sorts – international, national, regional, independent, boutique, and traditional firms – and are home to the respective talent pools they represent. Hiring marketplaces are single-handedly helping to minimize the volatilities of the staffing industry by providing businesses with continual access to qualified talent, making hiring easier. 
By facilitating automatic talent matching, hiring marketplaces help businesses quickly identify the best candidates in the market to fill their open positions. Hiring marketplaces leverage the competitiveness of suppliers to receive higher-quality submissions, enabling businesses to achieve better hiring outcomes with reduced time-to-hire.
The benefits of integration
Unlike traditional hiring models, a hiring marketplace integrated into a VMS solution unifies the hiring ecosystem. It simplifies access to talent across skillsets, geographies, cultures, and diversities without the need to navigate through disjointed talent sources like external supplier pools, internal pools, social media, and multiple job boards. It also eliminates the need for recruiters to manually source and submit candidates through various applications.
With an integrated VMS and hiring marketplace solution, businesses can manage their incumbent suppliers (and easily add new ones) in the VMS while accessing a diverse candidate list through the hiring marketplace. And now that all the hiring data is in a single location, businesses can easily track KPIs like time-to-hire, cost-per-hire, total recruiting spend, and staffing vendor performance. Program managers are more efficient because navigating through various systems to effectively manage their supplier relationships is no longer required.
Candidates benefit, too. They are inserted right into the VMS pipeline so all of the shortlisting, assessments, interviews and other requests are managed efficiently, with full visibility and transparency. They can even update their own profiles directly, which enables better decision making, faster hires, and superior outcomes – for everyone involved.
A crucial benefit of having an integrated hiring solution is the ability to secure all contingent hiring-related data in one place. A unified, ecosystem-based solution to govern contingent hiring facilitates easy access to current data and reporting that ensures better decisions because of reduced guesswork, smoother workflows, better budget management, and better performance.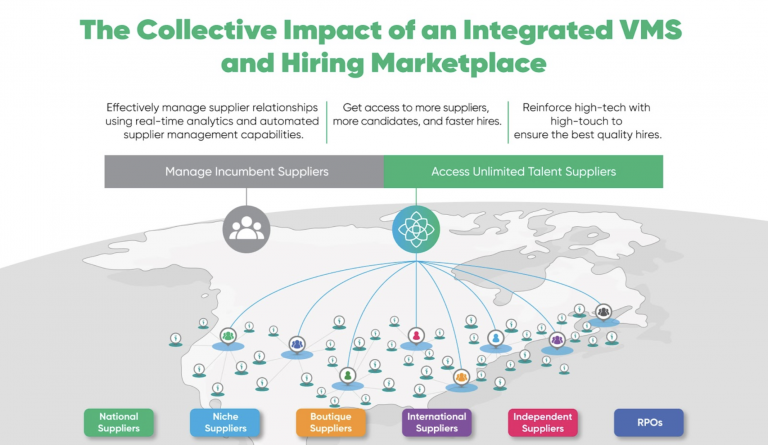 We provide the only VMS that is fully integrated with a hiring marketplace in the market. With enhanced capabilities powered by intelligent algorithms, our VMS Network delivers both solutions seamlessly. Ours is the only solution in the marketplace that includes real-time reporting and analytics and automated supplier management supported with high-touch curation from our workforce specialists. So, enterprises can manage their incumbents while simultaneously accessing an ever-expanding network of diverse talent suppliers across the US and Canada. We ensure only the highest-quality candidates that are the best fit are submitted for review. 
Prosperix VMS Network facilitates the end-to-end management of your contingent hiring lifecycle while empowering you to exponentially hire at scale.
Post a job on our platform to start hiring immediately.