Selecting the best candidates happens when adequate planning is reinforced with well-thought processes. When hiring biases are eliminated, businesses can get to the heart of what matters most: finding talent who perform and produce results at the highest levels — modern vendor management systems with built-in assessment capabilities help you achieve exactly this.
Times have changed, the demand for contingent workforce is rising, and remote work is here to stay. Amidst all these uncertainties, bringing top talent aboard remains constant for many businesses. The implications of poor hiring decisions are profound: low morale, waning motivation, compliance risks, and even degradation of the employer brand. As the competition for exceptional talent intensifies, more businesses have been forced to reassess how their candidates are being sourced and engaged; candidate pre-screening serves as an important capability to transform contingent hiring.
How Fully Integrated Candidate Pre-Screening Can Elevate Contingent Workforce Programs
Candidate pre-screening may seem like a minor touchpoint in the candidate lifecycle, but in reality, it extends a major influence over the entire hiring process. In a contingent workforce program setup, candidate pre-screening works for the collective good of businesses, staffing suppliers (external recruiters), and candidates. As the primary step in the candidate sourcing process, candidate pre-screening is integral for businesses looking to solicit and secure the best talent. It helps recruiters create a shortlist of qualified individuals by narrowing down their talent pipelines to the best candidates who are best suited for a job. When executed correctly, a candidate pre-screening strategy improves hiring outcomes by revealing hidden risks that could be detrimental to contingent hiring success and improves the chances that talent is a better fit for the organization. 
Here's how candidate pre-screening can help growing businesses.
Past performance is not necessarily indicative of future results and relying solely on resumes to filter out candidates doesn't guarantee you are identifying the best candidates for your business. To begin with, resumes often have incomplete or insufficient information to thoroughly assess and select the appropriate candidates to be moved forward in the hiring process. Moreover, using only resumes to screen candidates may riddle recruitment processes with unconscious biases. Biased hiring decisions can lead to reduced diversity in hires, which inadvertently affects business productivity and the ability to remain competitive in the long run. For these reasons, reinforcing a  pre-screening strategy along with resume screening is a great idea for businesses seeking to remove hiring bias, increase candidate fit, and improve diversity initiatives. 
Pre-screening techniques like using Smart Forms in Prosperix VMS Network to assess candidates provides businesses a controlled methodology combined with quantifiable data to compare candidates and pick out the best ones. With Smart Forms, businesses can evaluate candidates using various types of questionnaires including multiple-choice, true-false, multi-select, open text answers, and more. With every candidate answering the same set of questions, biases can be eliminated from the decision-making process and the candidate's personality, values, aspirations, industry knowledge, plus job fit can be evaluated accurately to achieve greater hiring outcomes.
Enhance Candidate Quality while Delivering Superior Candidate Experience
As much as candidate pre-screening can optimize the entire contingent hiring process, it also presents a great opportunity for businesses to map out candidate personas for various roles within the organization. By asking the right questions using Smart Forms businesses can identify the 'ideal candidate' which can be used as a benchmark to compare applicants and attract the best-suited candidates to the business' culture and job roles. Pre-screening also allows candidates to understand the requirements of the position while applying, giving them greater role clarity and a better alignment of expectations. By strengthening communication links between businesses and candidates, candidate pre-screening helps in enhancing the overall candidate experience. Having an accurately planned and well-designed pre-screening process improves your overall appeal to candidates, positively reflects on your employer brand, improves candidate engagement, and reduces workforce turnover over time. 
All in all, pre-screening acts as a great mechanism in helping businesses gather diverse perspectives on their potential candidates, thereby boosting decision making and heightening the quality of hires.
Time is crucial with hiring; every minute spent sifting through incomplete resumes and interviewing each applicant bogs down recruitment processes and delays hiring speed. Especially when there is a huge applicant response rate or when dealing with high frequency/high volume roles, using interviews as the initial checkpoint is close to impossible. In these cases, screening in mass is necessary. By using Smart Forms, answers can be weighted with different point values being assigned to questions that are of higher significance to quickly weed out candidates who don't meet the critical requirements of a job. Since these techniques are automated and standardized they ensure a faster and fairer comparison of candidates.
How Modern Vendor Management System (VMS) Technology can Help
Candidate pre-screening offerings are quite popular in the staffing industry and there are tons of assessment systems that work well. However, most businesses use solutions where candidate pre-screening is a separate offering rather than being an integrated capability. This leaves businesses struggling to leverage the pre-screening results effectively in their VMS as well as the data of pre-screening living in multiple places and often requiring manual entry into the VMS. Essentially, separate pre-screening technologies work and certainly provide benefit when utilized, however because the technology lives outside the VMS, the user experience is often poor, which leads to abandonment of the technology or limited use across a contingent workforce program.
Prosperix believes in providing a single solution that solves all facets of workforce management, including talent branding and attraction, sourcing, candidate engagement and nurturing, applicant tracking, candidate assessments, vendor management, onboarding, and redeployment. Prosperix works with businesses to build customized pre-screenings with a battery of questions that go beyond traditional screening methodologies, ensuring that each hire is the right fit from a cultural and position perspective.
When posting a job, hiring managers have the ability through Prosperix VMS to use Smart Forms to deliver a variety of assessment and screening questionnaires. These forms can include the following question types:
Multiple Choice

Checkboxes

Dropdown

Multiple or Single Text Box

Date/Time

File Upload

Star Rating

Like Indicator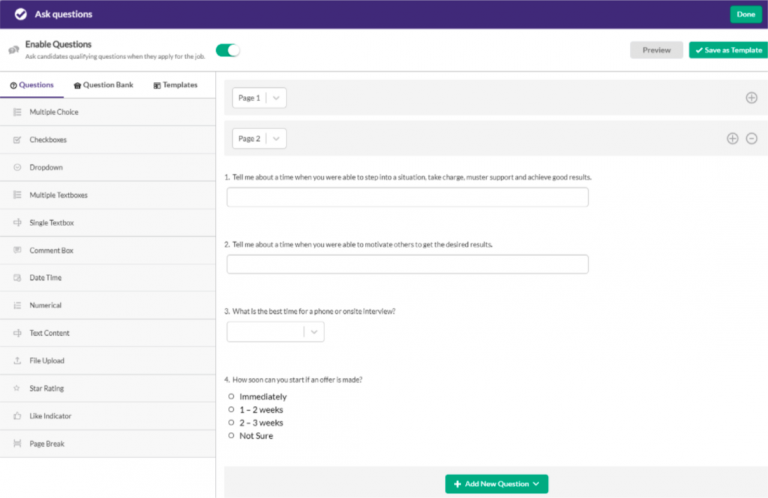 Prosperix's customizable Smart Forms aided in the success story of one of our manufacturing clients. Prior to onboarding with Prosperix, their hiring process was riddled with inefficiencies due to the simple fact that the organization lacked a comprehensive system to monitor and track contingent hiring. Resumes were sent in via emails and hiring managers struggled to filter out the relevant candidates leading to extended periods of engagement with unqualified applicants. Once the client onboarded with Prosperix as their combined MSP/VMS solution, our talent advisors worked closely with their hiring managers to understand and overcome their pain points. By using Prosperix's pre-screening module we were able to create a pre-screening questionnaire that could verify the potential candidate's experience and availability to commence training. This automated yet personalized approach to pre-screening increased their hiring efficiencies within no time by over 35%. 
With customizable Smart Forms added to your job requisitions, you can effectively prescreen your candidates and enhance their overall hiring experience as part of the standard hiring process and without ever leaving the VMS.
To learn more about how Prosperix can help you achieve extraordinary results, schedule a demo with us today.